Filtration Solutions
Filtration - Clean Fuel Reduces Downtime
With the increase in diesel injection pressures on engines and the sophistication of plant machinery, higher fuel and fluid cleanliness levels are a requirement in today's equipment.
We have partnered with Donaldson Filtration to provide bulk filtration systems that can reduce downtime, save on costly component replacement, and improve fuel economy. In short, Donaldson reduces your total cost of ownership.
Below are a sample of some of the Donaldson products we offer, however; if you want to know more or gain a quote don't hesitate to contact us and speak to one of our filtration specialists.
ISO Code & Beta Ratio
ISO Cleanliness Code
The ISO Cleanliness Code was developed for measuring fluid cleanliness and is widely used for determining particle counts in lubricants. It specifies the size of particles measured and the method for coding the level of contamination. The ISO 4406 standard utilizes a three number system to classify system cleanliness — example: 19/16/13. The first number means there are between 2,500 and 5,000 particles >4 μm, between 320 and 640 particles >6 μm and between 40 and 80 particles >14 μm. The second represents particles greater than 6μm and the third represents those greater than 14μm
Download The ISO Cleanliness Codes Chart here
Filter Beta Ratios
The Beta Ratio equals the ratio of the number of particles of a minimum given size upstream of the filter to the number of particles of the same size and larger found downstream. Simply put, the higher the Beta Ratio the higher the Capture Efficiency of the filter.
Donaldson Filtration Products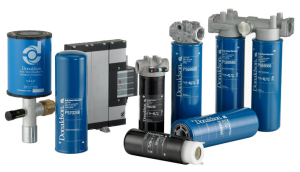 Petroleum Services are registered distributors of Donaldson Filtration products. We also have the skills and knowledge to help with ISO code and Beta Ratio deciphering for your diesel equipment in order to recommend the best product for your needs. We can also arrange installation if required. For more information contact us today.
T.R.A.P.™ Breathers
Regenerative TRAP Breathers strip moisture from incoming air, allowing only dry air to enter the tank. During the filling of the tank exhausting air picks up the moisture collected and "blows it back out", thereby regenerating the filter for longer element life.

Bulk Fuel and Lubrication Tanks
Hydraulic reservoirs
Lubricated sumps
P902973 - Bulk Fuel Tank Filter Kit
Ideal solution for Overhead, Portable & tanks less than 5000L. Contains all the necessary components to upgrade an existing fuel tank with modern filtration.

TRAP Vent removes moisture as low as 15% relative humidity. 99% efficient @ removing 3-micron particles
Filter & Filter Head for flow rate up to 220Lpm. 99.5% efficient @ 10-micron with Water absorbing media
Adaptors for fitting Vent & Filter head to existing tank. Pressure Gauge supplied to measure filter restriction (with pumps only)
P568666 – Diesel Fuel

Flow Range to 246Lpm
Target Cleanliness – 14/13/11
4 micron @ Beta 2000, or 99.5% efficient


P570248 – Water Absorbing for Ethanol Free Fluids
Flow range to 246Lpm
P570329 – Filter Head, SAE-20 O-Ring to meet ISO Standards for "blue can" filters. Flow Range to 246Lpm