Sign up to our newsletter and or Facebook page and receive 5% off your next puchase
11.10.2012
Thats right, sign up to our e-newsletter and or Facebook and you receive 5% off your next purchase*. What are you waiting for, sign up to both and you get a $25 credit to boot. Simply find our contact us page and enter the relevant info the contact form include "sign me up, 2012" in the contact field and you qualify for the discount. Like us on Facebook by clicking the Facebook button on the navigation bar above, hit 'like' and write on our wall 'I claim 5%' to receive your 5% discount and or $25 credit.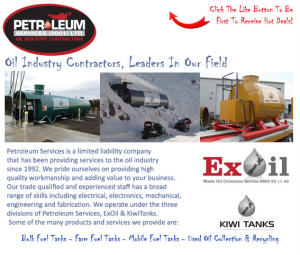 Terms and Conditions:
*terms and conditions apply. 5% discount is up to $250. 5% discount can only be claimed once either with the e-letter sign up or the Facebook 'like', however; you receive 5% discount and $25 credit if signing up to both. When signing up to the e-letter correct information is required for: name, last name, email, phone number. Correct claimant codes must be entered. Discounts and credits may be refused at Petroleum Services (2001) Ltd discretion.
Tri-pod Tanks on the Way Out
16.08.2012
Several accidents caused by the instability of farm fuel tanks with only 3 legs has led to these tanks beginning to be phased out. Some fuel suppliers are no longer comfortable in delivering to these tri-pod tanks and it is becoming clear that farmers need to be aware that upgrading their farm fuel storage may become a necessity. The department of labour approval for the manufacture of tripod (three legged) stands on fuel tanks was cancelled in 1996, with the intention that the use of existing tripod tanks would be phased out. Use of tripod tanks has continued and many are now reaching the end of their safe working life. We will have more information available on our website soon in regards to the fuel code of practice but contact us now to find out more. Petroleum Services Ltd are certified to dispose of obsolete fuel storage tanks and we are offering this service free of charge for farmers*, so if you have a tr-pod tank that is no longer in use get in touch with us now.
*terms and conditions apply for free disposal of fuel storage tanks, contact us to receive further information on these T's and C's
New Product Brochure
July 2012
Our product brochure has been updated and is looking fantastic. Thanks to Jane at ArtworxDesign for all the hard work and making it look great. HEAD HERE NOW TO CHECK IT OUT.
The Expo
Trucking and Heavy Equipment Expo 2013
Provided Nostrodamus is wrong! we are looking forward to The Trucking and Heavy Equipment Expo 2013. This expo only comes around every four years so make sure your there. Unfortunately this means we will not be attending the Central Districts Fieldays 2013 as the two dates clash. Any enquiries regarding this contact us now.
Fieldays Extravaganza
03.07.2012

Thanks to all those who came to see us at the Fieldays and take advantage of some great offers. We hope everyone enjoyed the 2012 National Agricultural Fieldays as much as we did, Hamilton definately turned on some great weather this year (a touch arctic). Our Fieldays offer expired this week when July turned up to remind us how fast the year is flashing by, however, if you twist our arm im sure we can work something out for the next few weeks in case you missed out. All orders purchased at the Fieldays should have been processed and sent (other than jobs requiring manufacturing like tanks etc) so if you are missing anything or want to check out where some is, dont hesitate to contact us.
Nz National Agricultural Fieldays 13th to 16th June - Site D3
30.05.2012
Yep they are on again this year from 13th to the 16th June at Mystery Creek. Come see us at site D3 for special deals, fuel voucher offers and more.
Trailer Tanks Get a Make Over
09.05.2012
We have recently reviewed our Mobile Fuel range of trailer tanks, tweaked a few things and adjusted our size range. We now supply a 2000L Contractor Spec as our largest mobile tank solution.
We also supply ute tanks as part of our mobile fuel solutions. Size ranges from 200L to 1000L.
Prison oil to be converted to re-newable fuel!
20.04.2012
Bio-diesel is gaining momentum as Kiwis seek re-newable fuel options, check out the below TVNZ article
http://tvnz.co.nz/national-news/prison-oil-coverted-into-renewable-fuel-4837682
Lubricant install and equipment info up now
10.04.2012
click here to view the new information available regarding our lubricant installation and equipment supply on our lube page
Our Latest 50KL & 30KL Tanks
10.04.2012
Our latest 50,000L and 30,000L tanks left the yard last month. Check it out below.
Loading our latest 50KL finished tank onto the transport truck to go to site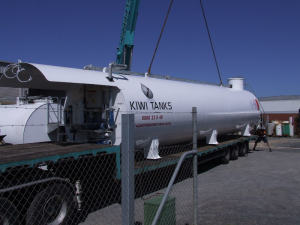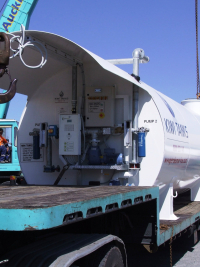 The finished product after installation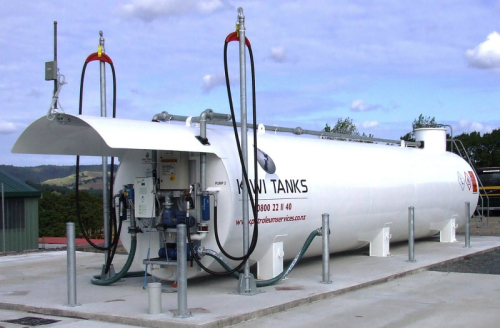 Our latest 30,000L after installation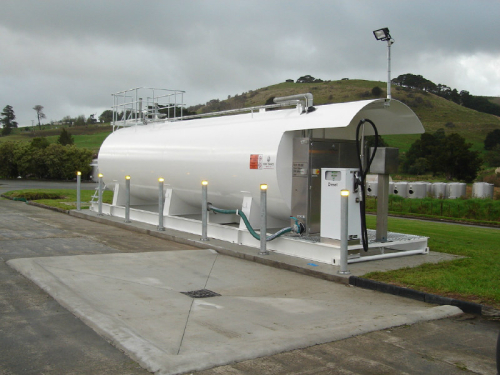 Bulk un-load, com-futra fuel management dispensing station all lockable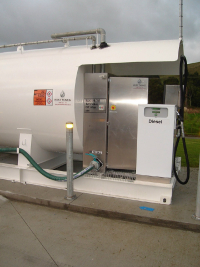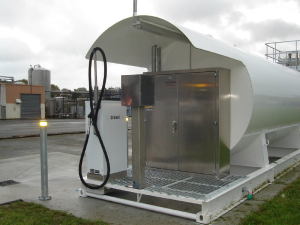 Petroleum Services at the Central Districts field days
17.03.2012
We had a great time at the Central Districts Field days and met some awesome people. If you were there and came through our display, no doubt we would have mentioned the Field Days only special we are running. Remember, this is valid for the entire month of March. Get in now to secure your fuel vouchers.
The Stand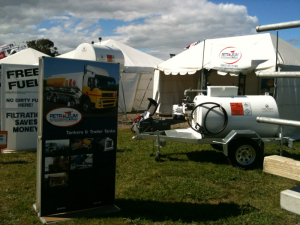 1850L Above Ground Gravity Feed Tank With Superior Donaldson Filtration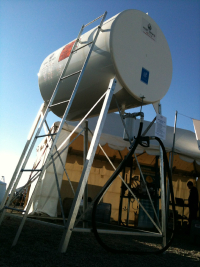 600L Petroleum Services Tank at the Northfuels Display